Tia's Big Pond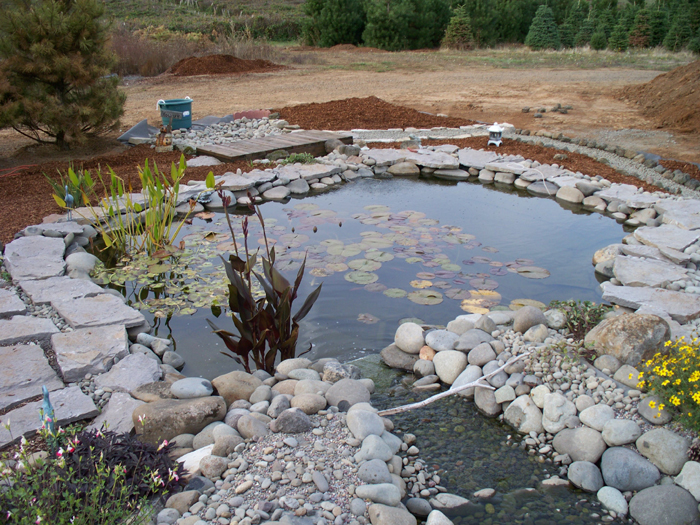 Photo taken 2009.

Pond Volume: The pond is somewhere around 2200 to 2500 gallons not counting the steam and filter. Because of the shape and slope of the sides I have not put much brain power into figuring out how many gallons the pond actually holds.

Pond Dimensions: 15' long x 11' wide x 2 '5" deep. These are average dimensions. The deepest section is 3' 6" deep and the shallowest section is 17". A stream connects the filter to the pond. The stream is about 15' long +/-. The filter is 4'x4'x2'.

Location of Pond: Eagle Creek, Oregon, USA

Date Pond Was Built: Spring to Summer 2009

EPDM Liner
The pump is a tetra DHP 4200 if I remember correctly.
The pond is stocked with koi, golden orfes and goldfish.
I have many water lilies in the pond. Some were gifts from friends and some I purchased. The bridge and overflow were added in October 2009. I needed a overflow to handle all the rain that we get in the fall, winter, and spring. The pond also has a drainage "ditch" around it that is incorporated into the path. I wanted to make sure that none of the run off got into the pond.

Directory:
Main Page
Small Pond
Photos of the Small Pond
Big Pond
Photos of the Big Pond
Last Updated: 11/21/09.
Copyright © Theresa 2009.